Student
Student

If you're a student studying horticulture, landscaping or other related subjects, look no further than PlantFile Online with fast and easy access, PlantFile gives you immediate study information on commonly used ornamental, native plants and their cultivars that are included on the majority of tertiary education study lists. It can be access on all devices including tablets, computers and phones.
Students that are
enrolled
at TAFE
colleges in NSW or Queensland have free access to PlantFile online through their college server. If you are uncertain how to access PlantFile or if you college is connected please talk to your teacher or librarian to find out.
Once you have accessed PlantFile please register with in PlantFile to access the additional features. This FREE registration will allow you to create plant lists, write your own profile sheets, use the Quiz to remember botanic names etc and use the QR coding of all plants. Below is an example of the registration form and a conformation e-mail will be sent to you, but it may end up in the junk file as it has a link in it so please check.
Scan and try PlantFile QR information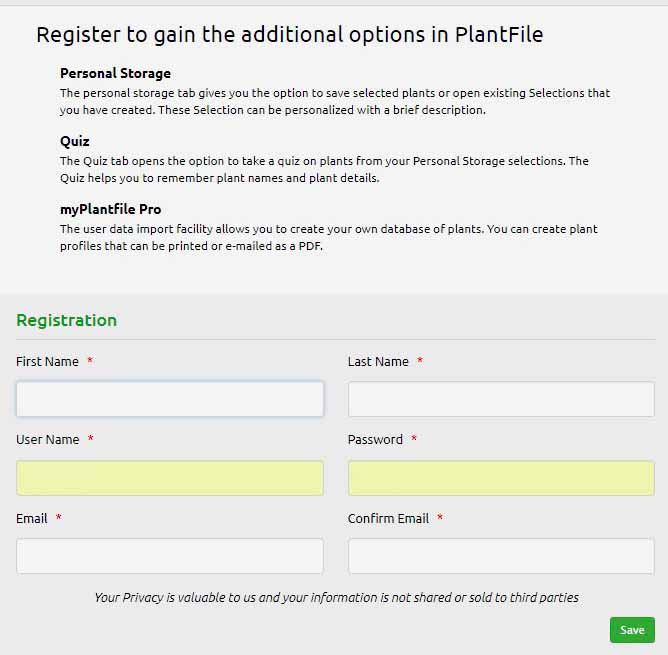 Student
The PlantFile CD
Students of Horticulture 25% OFF - STD ONLY(Student ID required) with For students of horticulture and related studies discount.
Please email us
prior to purchase
at
sales@plantfile.com
with your student ID and college name to gain approval.
For Upgrades,please contact

sales@plantfile.com